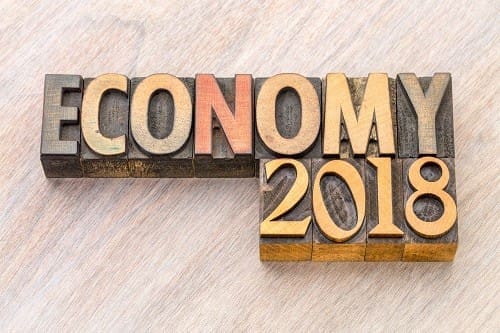 What's in Store for Small Business in 2018?
The just finished 2017 was a banner year for investors and publically traded companies. The Dow Jones Average opened 2017 at 19,762 and closed 12 months later at a near record of 24,719 (up a hefty 25 percent). That's nearly double the average of five years ago, when the Dow closed 2012 at 13,104. The rally shows no signs of stopping, as the average rose even higher to 25,295 in the first week of 2018.
So clearly, investors enjoyed the past year and are looking for more strong gains in the months ahead. But what about small businesses?What are their prospects for the New Year?
The overwhelming majority of small businesses are not publically traded companies. A rising stock market may have little to no effect on them. Do they have reason for optimism as we enter 2018?
According to the Metlife/U.S. Chamber of Commerce's Small Business Index, the answer is yes. During the most recent survey, a healthy 63.2 percent of small business owners queried say they were confident in their local economies, the overall small business climate in the United States and in the health of their companies.
The South leads in small business confidence, while the Northeast comes in last of the four regions. However, the difference between the highest and lowest confidence scores is only 2.6 percent. However, confidence and optimism are not necessarily the same thing. While 63.2 percent were confident about their companies, only 38 percent were optimistic about the future.
That lower optimism rate could be a simple by-product of operating a small business, where the odds of long-lasting success can sometimes seem daunting. Another factor that could affect optimism is something that is actually good: increased competition. One-in-five small businesses owners expect to see increased competition in the coming months. That could indicate a growing economy, with more entrepreneurs willing to risk capital to start new companies. Indeed, nearly half of those surveyed say they believe their local economies are strong. That number has increased six percent since the second quarter survey of 2017.
Other survey highlights include 57 percent responding that they expect their revenues will rise in 2018. A quarter of small business owners plan to increase their investments in the coming year, a number that may rise following the recent tax bill enacted by Congress. Finally, 27 percent anticipate hiring more workers, up three percent over the last quarterly survey.
A Bank of America poll of small business owners found that optimism runs highest among the youngest operators. Millennial entrepreneurs expressed the greatest belief their revenues would rise in 2018 (81 percent), while Baby Boomer owners seemed rather dour in comparison (40 percent). Gen X came in between with 60 percent confident in rising revenues.
In another survey, conducted by Microsoft, 37.6 percent of small business owner respondents answered they planned to introduce new products and services in 2018, indicating optimism about the future. A similar number (35.7 percent) revealed they intend to adopt a new marketing strategy within the next 12 months. Nearly 20 percent said they were considering partnering with other small businesses to expand their markets.
While most small businesses then seem quite confident and fairly optimistic regarding the new year, there still are several areas of concern. Quite a few probably sound all too familiar.
First, of course, are taxes. However, this concern may lessen as a result of the recently passed tax legislation. Obviously, it's far too early to tell the impact that these new tax rates will have on small businesses. Some time will have to pass before it can be determined if the effects were positive or negative.
A second small business concern is technology. Cybersecurity looms large here as companies conduct more business over the internet. Surprisingly, however, a significant portion of small businesses have little or no internet presence – be it the ability to fulfill orders online or market via social media – possibly due to cybersecurity concerns.
Finally, effective cash-flow management is a growing concern for small businesses.  A weak cash-flow management system puts a company at constant risk. As a result, services such as invoice factoring have developed to help companies get a better grip on incoming payments.
On the whole, 2018 looks to hold promise for small business owners. What does the future truly hold? Only time will tell.
Latest posts by Keith Mabe
(see all)