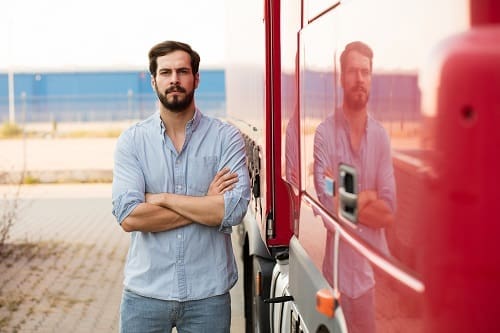 Was 2019 Just a Pothole for Trucking? Or Something More?
Nearly 800 trucking companies failed in 2019, taking almost 25,000 trucks out of the industry's capacity. Is this a sign of things to come? Or is it an overdue correction? 
Celadon Group, by far, represented the biggest name to fall last year when it filed for bankruptcy in December 2019. The Indianapolis-based trucking firm's demise was the largest in industry history. No surprise, as Celadon was one of America's 10 biggest trucking outfits at the time. When it closed, more than 2,800 drivers hit the road not with a load to deliver, but a pink slip. Another 1,300 support staffers also lost their jobs.
Ten months earlier, New England Motor Freight shuttered, putting its nearly 1,500 truckers out of work. The company blamed labor costs, excessive regulation, toll increases and insurance rates for its decision to close. Other major carriers that went bust in 2019 included New England Motor Freight, HVH Transportation, Cold Carriers, Falcon Transport and LME.
To be fair, trucking had a banner year in 2018, so anything less than a repeat performance was bound to be a disappointment. A downturn may have even been inevitable. Some believe, even with a driver shortage, there was simply too much capacity in the market. When demand slipped a little in early 2019, it didn't take much for companies operating with razor-thin margins and little room for error to crack.
But even big companies are hurting. Such industry stalwarts as J.B. Hunt, Knight-Swift and Schneider have revised their outlooks downward. This comes amid news that freight volumes have dropped since reaching a high for 2019 last May. The Cass Freight Index shows shipments in December 2019 at a low last seen in February 2016.
It sure seems like things are bleak. But is this grim view justified?
The United States has entered new trade deals with Canada, Mexico and China. The latter agreement puts an end to a trade cold war between the two giants that has had markets on edge. These trade deals could now spark new demand for equipment, machinery and consumer goods, all of which would absorb excess trucking capacity. Combined with the weaker trucking firms going out of business in 2019, reducing the number of rigs available, rates and revenues should increase, helping boost the industry overall.
No one can predict the future with absolute certainty. While there's a lot of glum faces in trucking today, there are indicators that better times could be just around the corner. You just have to look for them. Keep in mind that bad news almost always makes for better headlines and generates more clicks. Sometimes you have to read between the lines to get the clearest picture of what lies ahead. Two facts are certain in good times and in bad: Things need to be transported and there's no more popular or efficient way of getting goods from place to place than trucking.
Is your trucking company currently struggling with cash flow waiting for the turnaround to begin? Do you need the funds presently tied up in outstanding invoices? There is a solution available now. This solution lets you keep on trucking with invoices paid and cash flow problems now in the rearview mirror.
It's called invoice factoring. With this type of alternative business funding, the factoring company advances you funds in exchange for your accounts receivable invoices. The factoring company pays you right away for your outstanding invoices and takes care of collecting on them from that point forward, freeing you of the troublesome and time-consuming chore.
Invoice factoring is also quick – you can usually get paid within just a day or two instead of waiting the usual 30, 60, 90 days or more. Utilize invoice factoring as often as needed to keep your cash flow running as smoothly as your fleet on a wide-open, traffic-free road.  Invoice factoring is a convenient alternative to traditional bank loans or fee-laden online loans. To learn more about how factoring companies work, simply call toll-free 1-877-960-1818
Latest posts by Keith Mabe
(see all)