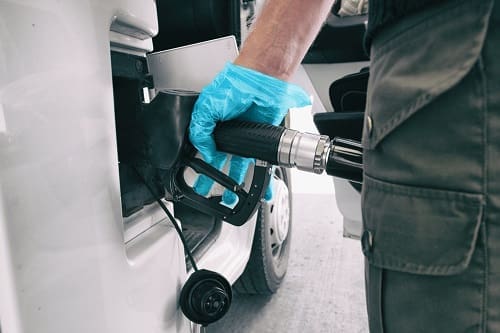 Anyone still venturing out of their home despite the coronavirus pandemic has probably noticed it costs a little less to do so lately. Data from the U.S. Energy Information Administration (EIA) shows a major drop in fuel prices and, although they haven't yet reached the levels of the 2016 oil crash or the 2008 recession, they aren't far off. What's behind this shift and what does it mean for the future? Let's take a look.
Global Demand for Fuel is Down
Back in April 2020, something "horrifying" happened. The price of crude oil dropped below $0 per barrel. That's not a misprint. The price really went negative. In a World Economic Forum article, Laila Kearney attributed the shift to two major issues: nobody was traveling and there was an oversupply of oil. There was literally so much oil ready to go that companies began running out of places to store it.
"There's no available storage anymore so the price of the commodity is effectively worthless," explained Mizuho Director of Futures Bob Yawger. "So when it's minus a dollar, they'll pay you a dollar to get it out of there."
The reality is, though, that demand for oil was already shifting. Research gathered by Matt Whittaker of Ameritrade's Ticker Tape shows that a major surge in the popularity of electric cars occurred long before COVID-19 struck. Sales have seen 40 percent year-on-year growth and experts from Deloitte believe about one-third of new car sales will be electric by 2030, putting an estimated 31.1 million electric cars on the road. As this shift occurs, it's only natural that there's concern about the long-term demand for fuel as well.
The Price Crash May Have a Major Effect on the Future
Oil isn't the only thing impacted by coronavirus. It has driven most commodity prices down. But, unlike other industries, oil has faced a litany of issues for decades. Increased pushes for zero-carbon initiatives, decreased demand, and corporate bankruptcies have left investors wary of the industry. They also suggest oil demand is preparing to peak.
BP's former CEO John Browne says he thinks the COVID-19-related crash will serve as a warning about the future of the industry. "We're right at the beginning [of this debate]," Browne recently told the Financial Times. "But a health crisis changes people's attitudes significantly and that will roll up to the oil industry."
We Can Expect Coronavirus to Impact the Fuel Market Moving Forward
With about one-third of global demand vaporizing due to travel restrictions and quarantines, it's clear the industry has been hit hard. Browne, along with a growing number of industry experts, believe that this shift in mindsets and demands will cause the industry to peak much sooner than expected—perhaps in just a matter of years.
Fuel Cards Remain a Boon to the Transportation Industry
It only takes one look at the EIA's charts to see that diesel prices are not dropping to the same degree gasoline prices are. While they've come down a bit, and that provides trucking and freight companies with some relief, it's not nearly as much as what general consumers are seeing. There's a simple reason for this—the transportation industry is still on the move. At the same time, the industries they serve are hard-hit, often putting off paying their own bills to ensure they'll come out of the pandemic intact.
This in mind, many trucking companies are turning to fuel cards to help keep goods moving. It not only allows them to continue accepting work, but allows them to double up on savings between the card discounts and lower fuel prices.
Fuel Advances are in Demand Too
For companies eager to cash in on the lower fuel rates but are stuck with little cash on hand as payment delinquencies rise, fuel advances are growing in popularity as well. In these cases, companies can sometimes get as much as half their pay from a job from a financing company when they load, making it possible to take on more work or keep operations running smoothly in spite of the economic ripples.
Get Help from Charter Capital
Offering game-changing services like fuel cards, fuel advances, and factoring, Charter Capital can help your company thrive in this changing economy and come out on top. Contact us to find the right solutions for your needs.
Latest posts by Keith Mabe
(see all)