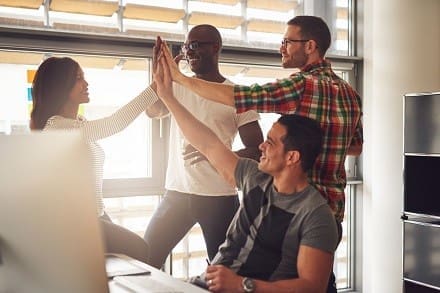 Small business has a BIG impact on the American economy. Sure, big business and Wall St. may grab all the headlines with their multi-billion dollar deals, but to dismiss or overlook the role small businesses play throughout every city in town across the country is to dismiss or overlook some of the greatest success stories of all time.
This week, May 1-7, America and the Small Business Administration (SBA) celebrate Small Business Week 2016. This nationwide event, started in 1963, recognizes the invaluable contributions of the country's greatest resource – its entrepreneurs.
What is a Small Business?
A small business is most frequently defined as a company employing 500 or fewer workers. According to that definition and the SBA, 99.7 percent of all businesses in America are small businesses. More than half of all working Americans either own or work for a small business. Furthermore, small businesses create about two out of every three jobs in the U.S. each year. Think about it… while big business is busy laying off tens of thousands of workers, small business steadily provides the jobs to keep people working, our economy going, and our nation competitive.
Advantages Enjoyed by Small Businesses
Sure, their larger brethren benefit from greater access to capital, economies of scale and media exposure, but small businesses have several important advantages big businesses lack. First and foremost, they attract people willing to take a risk, to experiment and to try something new. Unlike a big business, which has to answer to shareholders, small businesses frequently answer only to the man or woman in the mirror – the owner who started the business. That means they are often the incubators of new ideas, technologies and ways of connecting with customers and markets. As a result, small businesses are more nimble and can adapt more quickly to changing market conditions.
Second is pride. A small business frequently takes more pride in its work (sometimes because the owner's name is on the product itself) and that means higher quality and efficiency.
Another advantage a small business often enjoys over a larger one is customer loyalty. A small business owner often meets with customers personally and can build a long-lasting, mutually beneficial relationship. When times are good, that relationship can strengthen and build new business. When times get tough, that relationship can play a big role in customer retention.
Starting Small Doesn't Mean Staying Small
Several large and famous companies started life as small business, some so small they were first housed in a garage! Among the best known are Ben & Jerry's (ice cream), Whole Foods (grocery), Disney (entertainment), Mattel (toys), Google (internet), Amazon (retail), Wal-Mart (retail), Harley Davidson (motorcycles), Apple (computers) and Nike (apparel). So dream big, small business owners. With the right idea and determination, you truly can go as far as your dreams can take you.
The Future of Small Business
No one knows for sure what the future holds (if you can predict the future, patent the method and start a business!). However there are several trends economists identify that may be crucial to small businesses in the years ahead. Here are three of the largest ones:
The face of small business is changing – business ownership is giving way to women and young immigrants as one of the driving forces of entrepreneurism.
Coming labor shortages – America may be headed for a shortage of workers that could have a negative impact of how small businesses attract and compete for labor.
Staying ahead of knowledge – Like milk or bread, knowledge has a shelf life. Over time, new discoveries and innovations lead to new ways of thinking and doing things. In our age of technology, this process has greatly sped up. To stay successful, a small business owner must be able to adapt quickly or face being left behind.
It's Your Time to Shine!
Journalists are supposed to be objective, but when looking at Small Business Week and seeing all the wonderful innovations and contributions these firms provide, it's hard not to cheer such inspirational stories and numbers. So if you're a small business owner or worker, get out and celebrate, it's your week to be recognized for all that you do!
Latest posts by Keith Mabe
(see all)