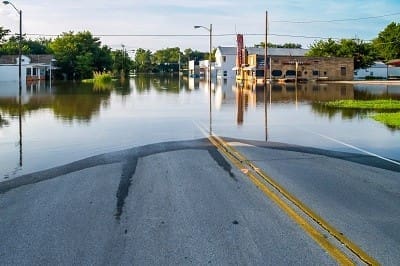 Recovering Your Business After the Disaster
Your business may run smoothly, but you should be Disaster preparation and recovery is a complex topic that is hard to cover fully and completely in one online article, you should be prepared for any business disaster. Here we discuss how you can recover from business disaster and or recovering your business after the disaster.
Houston and the Texas Gulf Coast have always been proud of their friendly, outgoing nature. However, the region recently had an unwelcome visitor that hung around far too long and left a big mess when it finally left.
Hurricane Harvey dumped more than 50 inches of rain on the Houston area – an entire year's worth of precipitation for the city – in a matter of days. Flooded homes and anguished victims continue to dominate the news. However, homeowners and apartment dwellers weren't the only victims of the deluge. Numerous small business owners/operators are also struggling with putting their enterprises back in operation post-storm.
According to the Federal Emergency Disaster Administration (FEMA), 40 percent of small businesses close their doors for good after a natural disaster. Of those that do reopen, less than one-third are still in business two years later. How can small businesses in Houston, Corpus Christi and other affected areas, pardon the pun, keep their companies afloat after Harvey? Here are a few ideas that may be of help in these trying (and drying) days and suggestions on successfully preparing for the next business disaster.
Preparation & Recovery from Business Disaster
Assess the situation and determine first if your business can continue after the disaster and if so, can it function in its current location or have to move to different facilities.
Document damage to your business with a camera or camcorder. File all insurance claims promptly and keep track of all correspondence.
Develop a communications strategy that keeps your employees, suppliers, lenders, customers and the media up to date on your situation, needs and future plans. Failure to do so may cause them to wonder if you've ceased operations and abandon you.
Reach out to local chambers of commerce, economic development associations, management districts and community support organizations. Each may be able to provide valuable recovery assistance or steer you towards additional resources and help.
Provide employees support and assistance. They are the ones who help your business succeed in good times and their loyalty and gratitude for your patience and understanding about their needs will be the biggest force in helping your business recover.
There are several government agencies available to aid in post-disaster recovery. These include:
The S. Small Business Administration (SBA) can offer low-interest loans to tide your business over through the aftermath or offer deferments on existing SBA loans to ease the financial burden following the storm.
The SBA also offers other business disaster-recovery assistance and programs. The SBA Small Business Disaster Recovery Center can be reached at 1-800-659-2955.
The Federal Emergency Management Administration can offer aid and assistance to employees struggling to cope with personal losses post-Harvey.
In addition, FEMA also has numerous tips and strategies for preparing for the next disaster before it happens.
Which neatly segues into our next topic: There's no better time to prepare for the next inevitable disaster than right now. "Be Prepared" has been the famous motto of the Boy Scouts for decades and it's great advice. Coincidentally, September is also National Preparedness Month, according to FEMA. So, here are some ideas to develop a disaster preparedness plan you can implement before the next storm hits. It can also help in the event of a fire, extended power outage, building collapse, terrorism incident, epidemic or whatever other unforeseen event nature or Man should throw your way.
Related Article: Fixing the Problems Facing Small Business is Good Business
Business Disaster Recovery Plan
A proper disaster preparedness plan should have at bare minimum:
An emergency response plan – This includes lists of important contacts and phone numbers/addresses as well as a clear, detailed outline of employee responsibilities in the event of a disaster.
A solid communications strategy – Keep your employees informed about the coming or ongoing emergency so they will know what is expected of them and what they can expect from you in the days ahead. You should also develop means to keep your customers informed in the days before (where possible) and especially following a disaster. Will you be able to continue servicing them? They need to know. Will you be closed or having to reopen in a new location? Will you be extending credit during the emergency to help? They'll be curious about that.
Regularly scheduled evacuation and procedure drills – Develop a road map of where people should be and what they should be doing in each step of an emergency. Then schedule regular practice sessions where an imaginary emergency is played out. The more familiar people are with the plan in advance, the more confident they will be in the plan and less likely to get confused or panicked when a real emergency actually occurs.
Needed items on-hand before an emergency – Will you need a backup power supply? If so, buy one now. Don't put it off until next week. The worst time to purchase one is when a storm is on its way. That sounds like common sense, of course, unless you are the one in line trying to buy a backup power system with a storm on its way. Likewise, with other types of business and personal supplies – stock up now when supplies are plentiful.
Way to secure supplies after an emergency – Following Harvey, trucks had an understandably difficult time navigating Houston's flooded streets. As a result, many businesses (such as restaurants) that were otherwise undamaged could not open because they had no way to get supplies. Wherever possible, potential alternate suppliers should at least be identified beforehand in case they are needed.
Backup data and duplicate documents – Back up your computer files and store the backups off-site. Duplication increases the chance of data survival. If your business is flooded or destroyed but the files are elsewhere, you still have the vital information needed to restart elsewhere.
Obviously, disaster preparation and recovery is a complex topic that is difficult to cover fully and completely in one online article. However, the steps outlined above can help you get started on recovery from the most recent disaster, and put you in a more informed position to prepare for the next one.
Latest posts by Keith Mabe
(see all)