Invoice factoring is the process of a business selling unpaid invoices from their receivables to an invoice factoring company. Once approved, which is usually within 24 hours, the invoice factoring company pays a percentage of the invoice amount to the company upfront. The factoring company then collects on the invoices for your business and, once all your customers have paid, reimburses you the remaining balance – minus a small fee. These are the main steps: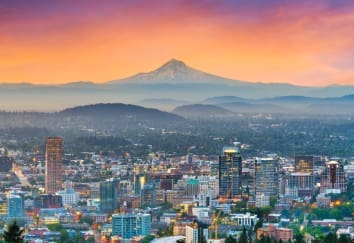 Invoice customers the same way you normally do.
Send your open invoices to an Invoice Factoring Company.
Receive the money for your invoices in advance – usually on the same day.
Accounts receivable factoring gives businesses access to immediate working capital, giving them the opportunity to reinvest their money and time into more pressing business matters. Businesses can pay essential expenses immediately, instead of waiting for customers to pay and having their cash tied up in unpaid bills.
Invoice Factoring Services Can Help Your Business in Oregon.
Charter Capital, an invoice factoring company, has helped many companies in various industries grow by offering cost-effective and efficient invoice factoring services. Companies rely on our experienced staff to simplify funding and cash flow management.
Industries in Oregon That Use Accounts Receivable Factoring.
Charter Capital is a leader in Oregon receivables and factoring companies. We have extensive experience in invoice factoring in many industries. These are just a few industries that benefit from invoice factoring services.
Manufacturing
Startups and small businesses
Personal
Transportation companies
Invoice factoring is a method that allows businesses to remove the payment delay and will enable the money to be immediately reinvested.
Small Business Funding in Oregon.
If you own a small business in Oregon and want it to grow and succeed, you must have a steady cash flow. A lack of capital is one of the leading causes of small business failures. If your cash flow is low and your invoices aren't being paid on time, it can spell doom for your business. Invoice factoring is a quick and reliable way to increase cash flow quickly and consistently.
What is Oregon Known For?
Oregon was founded in 1859 and is well-known for its wild west past, quirky traditions, and natural wonders. Some of the things Oregon is known for are:
Portland is home to the only leprechaun colony west of Ireland. Mills End Park is said to be home to an invisible group of leprechauns led by Patrick O'Toole, head leprechaun.
The deepest lake in the United States. Crater Lake, located in south-central Oregon, was formed around 7700 years ago by the collapse of an active volcano. It is approximately 2000 feet deep and home to two islands, Phantom Ship and Wizard Island.
Oregon is one of the five states with no sales taxes. Residents and tourists can shop tax-free, despite still having an income tax.
North Bend used wooden coins during the Great Depression. The coins are legal tender to this day, but they're highly sought after by coin collectors and seldom used.
The flag of Oregon is the only US state flag with a distinct design on each side. The front shows the escutcheon of the state seal in gold and blue, while the reverse features a golden beaver.
The Oregon Trail was 2200 miles long and was the longest of all the land routes used during the West expansion.
Hells Canyon, located in eastern Oregon, is the deepest canyon cut by a river in the United States. It is 7993 feet in depth and runs through Oregon and Idaho.
Reed College, Portland, is the only liberal arts college with a nuclear reaction that can be run by undergraduates. The reactor was built in 1968 and is managed by 40 students.
Oregon Business Resources.
Business Oregon is the state's economic development agency. The Business Oregon Commission supervises agency activities to ensure an integrated, coherent approach to economic development. It also provides a consistent policy direction that can be adapted to legislative and executive leadership changes.
Office of Small Business Assistance assists small businesses with questions or concerns about the state or local government. They are an independent voice that represents small businesses and offers an objective viewpoint.
The Oregon Small Business Development Center Network helps small businesses grow. They offer advising, training, and online courses for businesses in the state. They offer assistance to business owners in all aspects of business development and management through their 19 conveniently located Centres and 44 locations.
Oregon Economic Development Association (OEDA) is a statewide, non-profit organization that supports economic development professionals in Oregon. It works to diversify and expand Oregon's economy.