Business owners need a steady and stable cash flow to stay successful. A lack of working capital is one of the leading causes of business failure, but it is a problem that can be easily resolved. If your business is suffering from poor cash flow and slow-paying customers, you could be in serious trouble. Invoice factoring offers a flexible, easy way to finance your business – giving you access to much-needed cash in as little as 24 hours. 
Benefits of Invoice Factoring Services for San Diego Companies.
Charter Capital has extensive invoice factoring experience across a wide range of industries in San Diego. Here are some of the many benefits of working with us: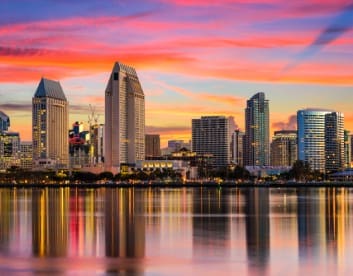 Factoring invoices are approved faster than traditional loans.
You can get money in your account quicker than invoices.
Factoring can be easier than credit scoring, financial collateral, and financing history.
You save valuable time and money by not requiring collateral.
You should be focusing on the most critical aspects of your business, such as building stronger relationships and customers.
Invoice factoring allows companies to eliminate payment delays and immediately reinvest the money.
Factoring Loans For Small Businesses in San Diego.
The global economic landscape is constantly changing. To grow, small businesses must be motivated and have the resources necessary to finance their expansion. This is why small businesses must stay up-to-date on market trends and consider the funding opportunities available to them in order to stay competitive. To provide working capital, you can seek out various financial options.
Capital shortages shouldn't get in your way if you are looking to grow your company and reach success. Factoring invoices is a great way for small businesses to raise capital conveniently.
Need Cashflow for Your San Diego Company? Consider a Factoring Loan.
Funding is essential to get your company started. Funding will help your business grow and move in a positive direction. It can be challenging to start a business and keep it running in the right direction. For small businesses, invoice factoring is a great solution. It is quick and straightforward:
Invoice customers the same way as you would normally.
Unpaid invoices can be sent directly to an accounts receivable factoring firm.
Get your money advanced – usually on the same day.
As a leading provider of receivables factoring services in San Diego, Charter Capital creates cash flow solutions for many companies across many industries.
History of San Diego.
Explorer Juan Rodriguez Cabrillo claims that he discovered San Diego Bay in 1542. This was approximately 200 years before any Europeans arrived in the area. However, Native Americans such as the Kumeyaay had lived in the area for over 12,000 years.
In 1769, a fort and mission were established. The settlement grew under the first Spanish, then Mexican rule. San Diego was officially made a part of the United States in 1848. The county seat of San Diego County was established when California became a state in 1850. Although it remained a small community for many decades, it grew quickly after 1880, when the military establishments were created, and development began. 
The growth was remarkably rapid after and during World War II. Today's economy is a result of the military, defense industries, and tourism. It was built by entrepreneurs and boosters. San Diego is the eighth-largest city in the United States and the center of the larger San Diego metropolitan region.
Economy of San Diego.
San Diego is the economic center of Southern California. It includes the Greater San Diego region and San Diego City. The area is located in southern San Diego County. Greater San Diego's 2014 gross domestic product was $206 billion, 17th amongst the largest metro areas in the United States. It also ranks 4th amongst California's metropolitan areas.
The largest sectors of San Diego's economy are defense/military, tourism, international trade, and research/manufacturing, respectively. In 2014, San Diego was designated by a Forbes columnist as the best city in the country to launch a small business or startup company.
San Diego's deepwater port is a major factor in the economy. Several national defense contractors are headquartered here, including General Atomics and Cubic.
Tourism is a major industry due to the city's climate and many tourist attractions, such as Balboa Park and Belmont amusement parks, San Diego Zoo Safari Park, and SeaWorld San Diego. The many historical sites throughout San Diego reflect San Diego's Spanish- and Mexican heritage, including Mission San Diego de Alcala. 
International trade is an important part of San Diego's economy due to its commercial port and location at the United States/Mexico border. The United States government has authorized San Diego to operate as a Foreign Trade Zone.