Phoenix is hot, and we're not just talking about the weather. Although the economy of Phoenix is rooted in 5 areas, known as the 5 C's (Copper, cotton, cattle, citrus, climate). There are many economic opportunities in this beautiful city. This city is constantly evolving, creating new ways to support small business owners and entrepreneurs.
A new resource in Phoenix is invoice factoring companies and accounts receivable companies (like Charter Capital USA), which provide invoice factoring or factoring loans. Invoice factoring is an alternative source of business financing that can help you overcome many of the obstacles set in place by traditional bank loans. This type of financing happens when you sell an unpaid invoice to a factoring company which will then advance you the invoice amount, minus a transaction fee.
Benefits of Factoring Services for Phoenix Companies.
As a leading receivables factoring company, Charter Capital provides solutions to businesses through providing invoice factoring services in Phoenix's vast array of industries. Some of the benefits of working with us are: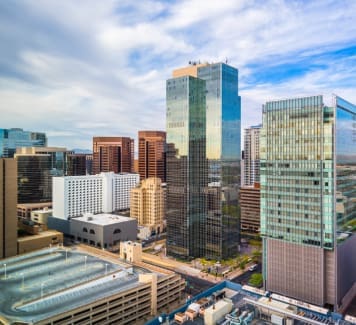 Invoice factoring gets approved much quicker than traditional loans.
Get money into your account sooner, even before invoices have been paid.
You can get approved for invoice factoring much easier as they focus more on the customer's payment history than your credit score, financial collateral, or financing history.
Saves you valuable time and money with no collateral.
Focus on more important aspects of your business, such as building stronger relationships with customers.
Invoice factoring is a method that allows businesses to remove the payment delay and allow the money to be immediately reinvested.
Factoring Loans For Small Businesses In Phoenix
For a small business to grow and succeed, it is essential that you have a steady cash flow. A lack of capital is one of the leading causes of small business failures. A lack of cash flow, depleted resources, and customers who aren't paying their invoices on time are a recipe for major problems in small businesses. Invoice factoring is a quick and reliable way to increase your cash flow quickly, reliably, and consistently.
Boost Your Business Cashflow With a Factoring Loan
Invoice Factoring is a flexible and straightforward way to get working capital for your company. We can purchase invoices at a percentage of the total value to help you get cash flowing again.
It is simple and quick:
Invoice customers the same way as you would normally.
Send the unpaid invoices to an accounts receivable factoring firm.
You can get your money in advance – often on the same day.
What is Phoenix Known For?
Phoenix has the highest average temperature in the United States and is widely known for its hot, dry summers and mild winters. Located in the northeastern reaches of the Sonoran Desert, Phoenix experiences a desert climate with extreme weather changes from one season to another. Although it is not as cold in winter as it is in the north, it can freeze occasionally. 
However, it is never too cold or uncomfortable. Monsoon rains and lightning are pretty common from July through September. They can be seen in the afternoon, evening, or even overnight. April is the best month for a visit. From sunset to sunrise, cicada insects can make loud noises in specific neighborhoods.
Historic Landmarks in Phoenix
Phoenix is home to many historical landmarks that will take you on an interactive journey through the city's rich history. Some of these historical sites include:
Papago Park, also known as the Phoenix Point of Pride or the Tempe Papago Park. This extraordinary desert park boasts a beautiful desert ecosystem with lakes and native cacti species, the main one being the Saguaro Cactus. You can also enjoy many activities like picnics, biking, and hiking.
Wrigley Mansion, a landmark building that sits atop a 100ft high hill rock, is also a major attraction in Phoenix. Built between 1929 and 1931, it is quite a sight to see with its blend of Spanish and Colonial architectural styles. It is also home to Geordie's restaurant.
St. Mary's Basilica, officially known as the Church of the Immaculate Conception of the Blessed Virgin Mary. It is the first Roman Catholic Church in the upper Phoenix and hosts the largest collection of stained glass work; it is worth a visit.
Pueblo Grande Museum, pre-Columbian archaeological sites discovered in Phoenix. Here you will find a platform mound as well as irrigation canals. It is believed that this area was inhabited by Hohokams, who lived and practiced agriculture in this area from 450 BC. They later abandoned it.
Charter Capital, a factoring company that provides invoice factoring services to businesses, is helping them to get the funds they need to grow their business. Charter Capital can deliver within 24 hours, in contrast to banks which can take up to 90 days. Contact us for more information on invoice factoring today.