Is Brick-and-Mortar Dead? Hold Up on That Obituary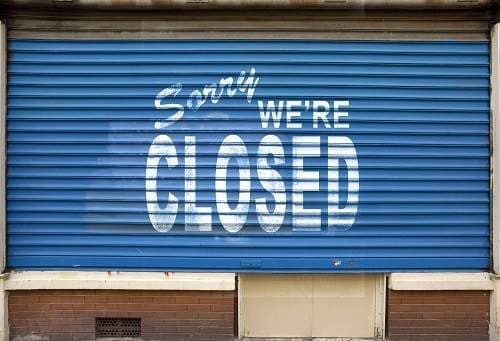 When asked about wild rumors of his passing in 1895, Mark Twain reportedly replied, "Reports of my death have been greatly exaggerated."
Fast forward nearly 125 years and there's another rumor of death floating around. Only this time it's not about a person, but about a way of doing business. According to analysts and experts, we've entered the e-commerce age. All purchases will be transacted online, and orders will be shipped overnight to waiting customers. Amazon and companies like it will rule the marketplace. As a result, "brick-and-mortar" (those that rely on a physical location) businesses are dead.
But is that, in fact, true? Has ecommerce replaced traditional brick-and-mortar businesses or, has brick and mortar's death been greatly exaggerated? The answer is … no one really seems to know. A cursory search of business headlines reveals a mixed bag. Fortune magazine proclaims that a "Record Amount of Brick and Mortar Stores Will Close in 2017." Meanwhile, Forbes magazine has just reported "How Brick And Mortar Stores Are Making A Comeback With Millennials And Gen Zers." Business Insider bleakly intones "The Crash of Brick-and-Mortar is Only Going to Get Worse," yet earlier the same publication gives "The Simple Reason Brick and Mortar Stores Aren't Dead."
So, which is it? They can't all be true. Should we be buying "Congratulations on Your Recovery" cards or "Condolences for Your Loss" ones? And should we buy the cards at a brick-and-mortar store or online? And if you're a small business owner, where should you be investing your resources for future growth: in e-commerce or in a new physical location?
Lots of people have crystal balls, but not everyone is seeing the same thing when they peer into them.
For one thing, most of the talk about ecommerce vs. brick-and-mortar revolves around retail outlets and sales. If you're not a trinket shop in a suburban mall, it may be tough to get relevant information on how this commercial tug-of-war affects you and your business. If you sell or service heavy equipment, you're probably wondering how you're going to even sell your products online. If you're in the tech field, you're no doubt scratching your head because you've been in ecommerce since the very beginning.
For small businesses on the fence about ecommerce versus brick-and-mortar, the first consideration should be your customers and how you can best meet their needs. No matter how they buy – whether at a physical store or via the Internet – there is one sure thing you can always count on: When they are ready to buy, they want to be able to find it and buy it fast. In the end, it's their choice. Your job is to figure out how they want it and be able to deliver what they want using the channel they prefer. The only way to know that is to know your customers, their needs and how they want to interact with you.
Brick-and-mortar and e-commerce each offer advantages and disadvantages to both the seller and the buyer.
Brick and mortar's advantages include a physical location where customers can see, touch and even try out your products before they buy. There's also the sense of legitimacy that comes from having a physical location – people can see you and speak to you and subconsciously that builds a foundation of trust. On the other hand, that physical location also incurs higher startup and ongoing business costs. Operating a physical location also requires the owner put in a lot of long hours at that location, as the owner is frequently not only the ultimate decision-maker, but also the face of the business.
Online businesses likewise have their advantages and disadvantages, too. Unlike physical location, the owner of an ecommerce venture can work from home. As many of the tasks associated with an online company can be automated, an e-commerce entrepreneur doesn't have to put in nearly the hours as the owner of a physical business. Doing business online also has much lower startup and ongoing costs. But there are drawbacks, as well. Just as having a physical location adds an air of legitimacy, the lack of one may lead some customers to wonder if you're a fly-by-night business, here today and gone tomorrow. Many prospects may shy away, concerned if there is a human being they can talk to should they encounter problems after the purchase. Finally, an online business is tougher to find than a brick and mortar location. People can drive by a physical business or see a sign and be curious enough to want to learn more. Not so for online businesses. An online business requires much more marketing and promotion to stand out, gain visibility and attract customers.
So, back to the original question: Is brick-and-mortar dead? The answer is, it depends on what type of business you are in. If you sell sweaters or office supplies, the outlook for brick-and-mortar is not so promising. However, if you engage in providing niche business-to-business products and services, the answer is not quite so clear. Perhaps one way to look at it is, "if Amazon sells it, then you need an ecommerce platform." (Learn more about how to set up an ecommerce business here, in our post from February 2018.)
However, many small businesses aren't worried about whether brick-and-mortar is dead or if ecommerce is overrated. Why? Because they've embraced both. Omnichannel marketing incorporates both concepts and enables a company to offer its customers a choice on how to do business with them. Customers can make use of a traditional brick-and-mortar location to see a vendor's products, ask questions one-on-one, and take home purchases immediately. Or, if they prefer, they can do all their interactions online. It's a win-win for both parties.
Again, most of the stories and data concerning brick-and-mortar vs. ecommerce revolve around retailing and not small business in general. That makes it tough to issue predictions or give guidance about the non-retail segment. However, there is one very telling sign that shows brick and mortar has not seen its final days: Several famous online companies are now opening … wait for it … brick and mortar stores. So maybe we should hold up on its obituary. Clearly reports of brick-and-mortar's death are not only exaggerated, they're premature.
Latest posts by Keith Mabe
(see all)