What is Invoice Factoring?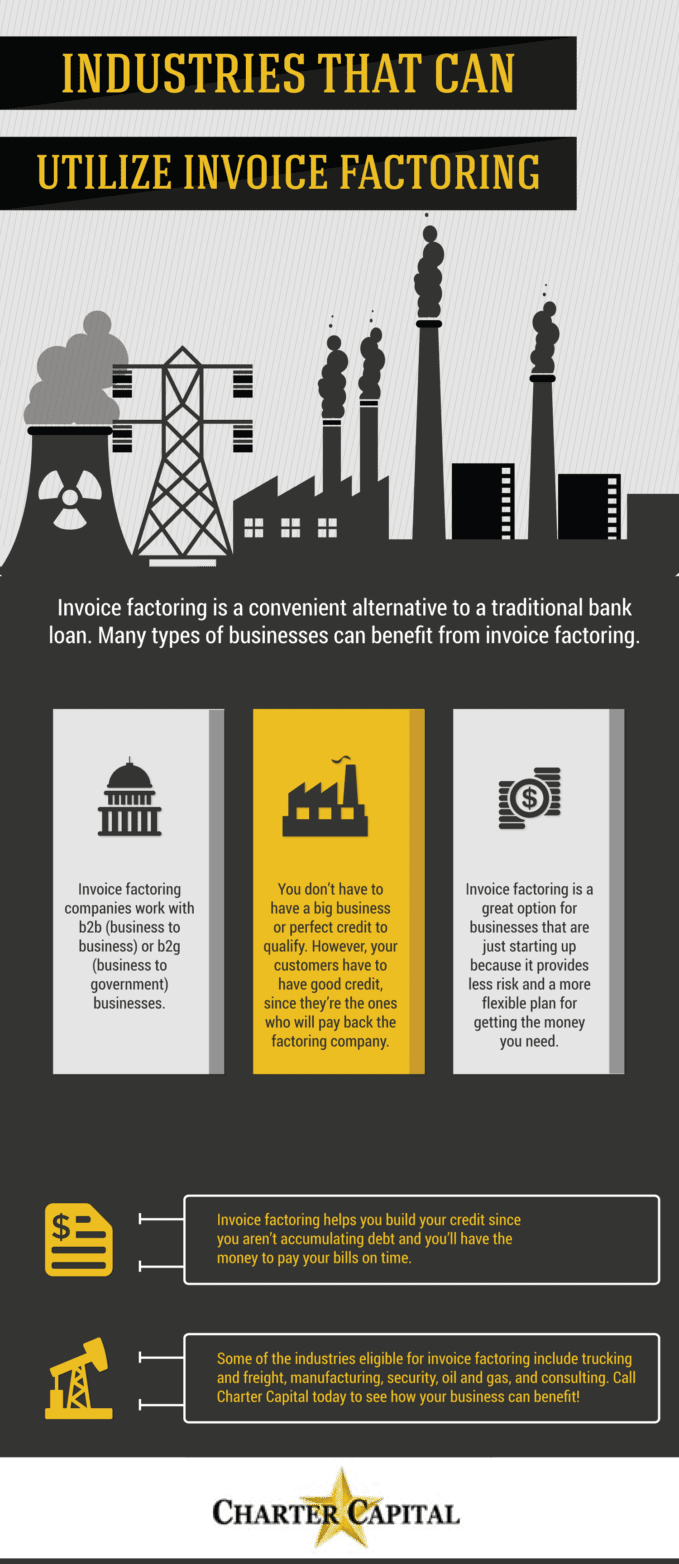 Invoice factoring, also known as accounts receivable factoring, is a convenient alternative to a traditional bank loan. Where bank lending requires a long-term contract, invoice factoring services give you almost immediate cash, when you need it without any long-term financial obligations. You can also get cash faster through invoice factoring: You'll usually receive your money within a day or two. Bank loans can take weeks or months to be approved.
Another reason that a factoring company may be a better option than a bank is that banks are often uncomfortable financing fast-growing small or medium-sized businesses because of cash flow problems brought on by rapid growth and uncertainty when it comes to future financial performance. Banks would rather finance a company or business with a steady cash flow, predictable earnings, and manageable growth rates, whereas companies in the factoring industry may look past those issues and grant financing based on the quality of a prospective client's accounts receivable and account debtors.
Keep in mind, factoring is not a loan; it is a purchase of your outstanding invoices. An invoice factoring company buys your invoices for a percentage of the total invoice value and then collects the full invoice payment from your customers. For example, if a receivables factoring company buys your unpaid invoices for 90% of your invoice's value, once they have collected the full amount, they will return the remaining 10% to you, minus a factoring fee. This process is an effective solution to your cash flow problems.
Businesses that can benefit from invoice factoring services include those in the following: apparel industry, service industry, the staffing industry, the transportation industry, manufacturing industry, technology industry, and more.
At Charter Capital, we work with business-to-government and business-to-business customers. Our clients are often involved in industries such as trucking and freight, manufacturing, security, oil and gas, and consulting. These types of businesses benefit greatly from a cash advance that lets them invest in new equipment, meet payroll, buy an asset, manage expenses, or negotiate for better deals with their suppliers.
Invoice factoring is a great option for startup businesses, small businesses, or those who are trying to rebuild their credit score. It's often difficult for these types of businesses to get approved for a bank loan, which is one of the reasons most new businesses fail within the first 5 years. Charter Capital performs credit checks on your customers, so, as long as your customers have a good credit history, you'll be eligible for our factoring services. Factor as much money as you need when you need it, and watch your business grow!
Charter Capital has extensive experience working with large and small commercial businesses in a variety of industries. Whatever your needs, we're here to help. Our goal is to provide your small business with the cash it needs to realize its full potential.
Apply online for invoice factoring services for your business, or give us a call to find out if you're eligible. You can get paid in as little as 1 to 2 business days and put that cash directly into your business wherever it's needed most. There are no long-term contracts or hidden additional fees, so you can enjoy complete financial freedom as your business continues to flourish. Call Charter Capital today to learn more about our invoice factoring services.
Latest posts by Keith Mabe
(see all)