Invoice factoring is an alternative source for business financing. The process is simple: it entails selling your open (unpaid) invoices to a factoring company, which then gives you the invoice value as a cash advance (minus a small transaction fee). Invoice factoring is used by a number of industries to speed up cash flow and eliminate the waiting period for payment that is common with accounts receivables processes. A gap in your cash flow can be detrimental to your company's growth, but invoice factoring can fill that gap while eliminating the roadblocks that are presented by traditional bank loans.
As a factoring company serving the Chicago area, we thoroughly enjoy doing business in this vibrant hub of finance, culture, commerce, industry, education, technology, and transportation.
Benefits of Factoring Services for Chicago Companies.
Charter Capital is a receivables factoring firm with extensive invoice factoring experience. When you work with us, you not only benefit from personalized service and decades' worth of expertise, you also enjoy the following benefits: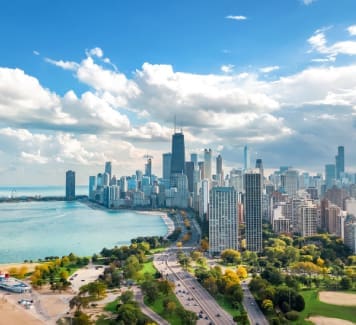 Factoring invoices are approved faster than traditional loans.
You can get money in your account faster, even before customers have paid their invoices.
Factoring approval can be easier as it doesn't require your credit score, financial collateral, and financing history. It focuses more on the payment history of your customer.
You save valuable time and money without needing collateral.
You can focus on more important aspects of your business, such as building stronger relationships and customers.
Invoice factoring allows businesses to eliminate payment delays and have the money to be immediately reinvested.
Factoring Service For Small Businesses In Chicago
For small business owners, a steady cash flow is essential for your business's growth and success. A lack of capital is one of the leading causes of small business failures. If your cash flow is low and your invoices aren't being paid on time, it can spell doom for your business. Invoice factoring is a quick and reliable way to increase cash flow quickly and consistently.
Get Factoring Loans For Your Chicago Business
Many industries in Chicago are using invoice factoring to cover outstanding invoices, increase working capital, and maintain cash flow. These are just a few of the industries that utilize invoice factoring services.
Start-ups and Small Businesses.
Energy Companies.
Transportation companies.
Healthcare Services.
Manufacturing Services.
Technology Companies.
By using invoice factoring, companies are able to receive payment for their invoices within 24-48 hours instead of waiting for the client to pay them.
Economy of Chicago.
Chicago is a well-known transportation and distribution hub in the United States, proudly hosting 36 Fortune 500 companies. To put its economic prowess into comparison, Chicago's total economic output in gross metropolitan products in 2020 was $770.7 billion – surpassing the total economic output of Switzerland. Chicago's Gross Metropolitan Product (GMP), now stands as the third-largest in the country, behind Los Angeles and New York. Many of America's most prominent industrialists, corporate lawyers, and merchants hail from Chicago.
One of the Federal Reserve Banks, established in 1914, is located in Chicago. The Federal Home Loan Bank of Chicago is also located here. JPMorgan Chase, Bank of America (through the acquisition of LaSalle Bank), BMO Harris Bank, and Northern Trust are the largest banks in Chicago. Many financial institutions can be found in the loop.
In the 2020 Global Financial Centres Index, Chicago was ranked as having the 20th most competitive financial center globally and sixth most competitive in the United States.
History of Chicago.
Jean Baptiste Point du Sable was the first non-Indian settler within Chicago's future borders. He arrived in 1780. The U.S. Army constructed Fort Dearborn on the south bank of the Chicago River in 1803. It was destroyed by Indian raids in 1812, but it was rebuilt four years later. To finance the Illinois and Michigan Canals, lots were sold in 1830.
Chicago was established as a town in 1833 and as a city when it reached 4,000 people in 1837. Chicago received its first railroad and telegraph in 1848. The Board of Trade's wheat grade standards and grain elevators were two innovations that changed the way crops were sold. The city was home to more than 3000 people and was the largest global grain port by 1854. Many of these were European immigrants.
One-third of Chicago was destroyed in a fire that leftover 100,000 homeless in October 1871. Although the fire's origin is unknown (despite legends about Mrs. O'Leary's lantern-kicking cattle), it was partly fueled by high winds, drought, and wooden buildings. The city was rebuilt quickly, with the exception of railroads and factories.
Chicago's population fell between 1950 and 1960 for the first time in its history. Factory jobs were cut off, and people moved to the suburbs. According to the 2000 U.S. Census, Chicago saw its first decade-over-decade population growth since 1950. Although immigrants still flock to Chicago, they are now more likely to be from Asia and Latin America than Europe. Chicago is still a major hub of trade. Airports complement the existing rail and water transit hubs. Agricultural futures can be traded electronically from the floor at the storied Mercantile Exchange.