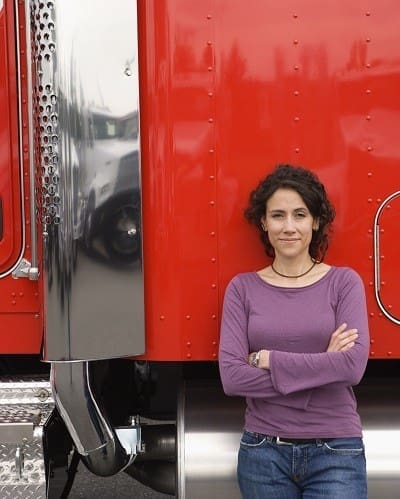 Female Drivers : The next time a semi tractor-trailer truck picks up or drops off a load at your dock, you may well encounter a woman behind the wheel. Once almost exclusively the bastion of men, the trucking industry is now welcoming more and more women.
The profession has seen a 68 percent increase in the number of female truck drivers between 2010 and 2018, according to the American Trucking Association. More than 234,000 women were employed driving trucks last year, the association said. This represents just 6.2 percent of all drivers (3.5 million total), but the trend is on an upward slope.
Equal pay was a main reason more women were getting behind the wheel. Truck drivers earned a median yearly salary of $44,500 in 2017, according to the Bureau of Labor Statistics. This is higher than several traditionally women-dominated careers such as office administration ($38,990), healthcare support ($32,380) and food preparation ($25,580).
Female Drivers Revolutionizing the Trucking Industry
Driver shortages and retention problems have been plaguing trucking firms in recent years, with an estimated 60,000 driving jobs unfilled at the beginning of 2019. That number is expected to grow to nearly 175,000 by 2026. Companies desperate for more gear jammers to meet increasing customer demand aren't eager to turn away willing, qualified candidates, no matter their sex.
As a female driver from Missouri, Deb La Bree, summed up in a Fox News story: "The steering wheel knows no gender."
Several changes in the trucking industry have made it easier for women to enter. For example, new truck transmissions are easier to operate and are less grueling to use over a long-distance haul. In addition, truck drivers are no longer required to unload their cargo at their destination.
"New technology and equipment make truck driving a job that's more geared toward women," said Lindsey Othmer, a truck driver in Fife, Washington, in a recent Wall Street Journal article on the growing number of female truckers.
Rebekah Koon explains in a recent Fox News story, "I don't think it's all about the pay. I can say, on a personal level, that I actually just really enjoy the trucking… I enjoy the people I meet and the sights I see. I also know that the pay was a definite benefit," she admitted.
Besides equal pay, what are some other reasons more women are jumping in the cab?
"I like being on my own and making my own decisions about how I'm going to get the job done," driver Lanelle Devlin tells CNBC's program Make It.
Margo Mitchell of Schneider says on her company's website that she was born to be a trucker. "My dad raised me to be a driver," she recalls. "He saw a God-given talent. At 15, I pointed at a tractor-trailer and asked if he thought I could drive one of those. He looked me in the eye and said, 'You're a Mitchell. You can drive anything.' I started studying for my CDL before I even had a permit to drive a car."
Schneider has a dedicated page devoted to telling women what it's like to be a female driver for the company. Schneider driver Toni Thomas gives this advice: "Women shouldn't be afraid to get out of the norm. I think driving can make a woman feel empowered. I also believe that women are safer drivers because they aren't afraid to ask questions, ask for help and are willing to learn."
In the 1970s, the Virginia Slims cigarette brand ran an iconic advertising campaign congratulating women on their progress in the business, political and social worlds. "You've come a long way," the ads proclaimed. Today, not only have they come a long way, but they're going even farther, often behind the wheel of a big rig on the open highway.
Latest posts by Keith Mabe
(see all)