Houston, Texas, is one of the best cities in the United States to start a new business. This metropolis offers various resources aimed at supporting small business entrepreneurs across several industries, from healthcare to energy. One of the most helpful resources for local Houston businesses is invoice factoring (or accounts receivable factoring) services that are offered by dedicated factoring companies in Houston, like Charter Capital USA.
Businesses can benefit from invoice factoring, an alternative type of financing that eliminates many of the roadblocks associated with traditional bank loans. It involves selling an unpaid invoice to the factoring company which then advances you the invoice amount less a transaction fee. Many industries use invoice factoring to eliminate the common waiting period for customer payments and immediately put the money towards growing their businesses.
Industries in Houston that Use Accounts Receivable Factoring
A wide array of industries in Houston take advantage of the benefits of invoice factoring or accounts receivable factoring. Here are just some of the industries that use invoice factoring services: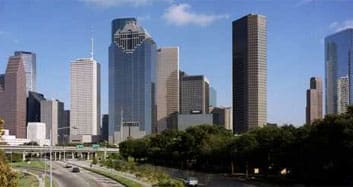 Small Businesses / Startups
Energy Companies
Transportation companies
Healthcare Services
Manufacturing Services
Technology Companies
Invoice factoring allows companies to get their invoices paid within 24-48 hours rather than having to wait the typical 30-120 days for clients to pay the invoice.
Invoice Factoring Process
Invoice factoring involves a business selling their outstanding invoices in their accounts receivable to an invoice factoring company. When approved – usually within 24 hours – the invoice factoring company pays you the invoice amount less a small fee. Here are the three main steps you take:
Invoice your customers like you usually do.
Submit unpaid invoices to an Invoice Factoring Company.
Get your money advanced – usually on the same day.
Invoice factoring services allow businesses to immediately reinvest their money back into the business rather than having money tied up in unpaid invoices.
About Houston
Founded in 1836, Houston is the fourth-most populous city in the United States – 6th in North America – and is the most populous city in Texas. Houston's current population is estimated at 2.32 million, up 220,000 people since the 2010 census.

Houston's diverse metropolitan population has given the city many widely-used nicknames, including Bayou City, Space City, H-Town, and The 713. Its numerous cultural institutions and exhibits add to the attraction of the beautiful city. Multiple museums, galleries, cultural exhibitions, visual art shows, and performing art shows can be found in the Museum District and Theatre District. These wonders attract more than 7 million people each year.
History of Houston
According to historians, in 1836, the Allen brothers, Augustus Chapman and John Kirby explored options for town sites on Buffalo Bayou and Galveston Bay. They purchased the lower half of a 2,214-acre area and ran their first advertisement for Houston four days later, naming the town after President Sam Houston. When the Texas Congress convened in Houston for the first time in May 1837, Houston had already grown to a population of 1,500.
Houston was the temporary capital of Texas until 1839 when the capital was relocated to Austin. In 1840, a chamber of commerce was established to promote the new port on Buffalo Bayou. By 1860 Houston was emerging as a commercial and railroad hub for cotton exports. After the Civil War, Houston businessmen initiated the widening of the city's system of bayous so more commerce could occur.
Economy
Houston has growing biomedical research, aeronautics, and energy industries with both oil and natural gas and renewable sources such as wind and solar. The Greater Houston area has attracted many technology or software companies, including Cybersoft and HP Enterprises. Houston has been recognized as America's top city for employment creation by Forbes, as well as making their "Best Places for Business and Careers" list.
Climate
Houston's climate is classified as a humid subtropical climate, which is common in the Southern United States. Temperatures often exceed 90°F for almost a third of the year, with an average of 4.6 days with temperatures exceeding 100°F. The mild winters of Houston bring temperatures around 53°F, but the temperatures can reach as low as 32°F. Houston will receive an average of 49.8 inches of annual rainfall, with the majority occurring between April and October.
Business Resources
Houston's local businesses have numerous resources available to local business owners looking to grow their business, network, or become involved in mentorship programs.
SCORE Houston – A 501(c)(3) nonprofit organization dedicated to helping small businesses get off the ground through education and mentorship.
Small Business Administration (SBA) – A National Organization with a Houston office helping entrepreneurs access the resources needed to start a business.
LiftFund – A local nonprofit that helps small businesses secure financing.
Houston Chambers of Commerce – The networking of business owners and professionals is served by the Greater Houston Partnership and the Metropolitan and West Chambers of Commerce.
Charter Capital is a leading factoring company in Houston providing invoice factoring to businesses, helping them get the money they need to grow and expand their business. Unlike banks, which can take upwards of 90 days, factoring companies such as Charter Capital can deliver in as little as 24 hours. Contact us to learn more about invoice factoring and how we can help grow your business.