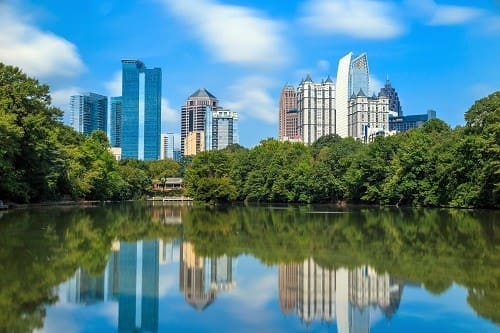 As an Atlanta factoring company, we thoroughly enjoy doing business in this vibrant and diverse city.
Invoice Factoring companies give you the opportunity to sell your open invoices as an immediate source of business financing. Also known as accounts receivable factoring, this simple process eliminates many of the roadblocks your business would face when applying for a traditional bank loan. As opposed to waiting 30, 45, 60, or more days for your clients to pay your invoices, you can use invoice factoring to help manage your cash flow and get paid within as little as 24-48 hours.
Industries in Atlanta That Use Accounts Receivable Factoring
As a leading receivables factoring company, Charter Capital has invoice factoring experience in a wide array of industries in Atlanta. Here are just some of the industries that use invoice factoring services:
Consulting and service firms
Manufacturing
Security firms
Small businesses and startups
Staffing
Transportation companies
Many businesses use invoice factoring services to eliminate the waiting period for payment so that the money can immediately be reinvested.
Invoice Factoring Process
Invoice factoring involves selling outstanding invoices to a accounts receivable factoring company that then advances you the invoice amount less a transaction fee. The factoring company then collects on the invoices for you, freeing up valuable time and capital that you can spend on growing your business.
It is as easy as 1-2-3:
Invoice your customers as you normally would.
Submit the unpaid invoices to an invoice factoring company.
Get your money advanced – usually on the same day.
About Atlanta, GA
The birthplace of Martin Luther King Jr. and home to the CDC, former US President Jimmy Carter, and Coca-Cola, Atlanta is an international economic and cultural hub. The sprawling Atlanta metropolitan area is home to a whopping 6 million people, making it the ninth-largest metropolitan area in the United States. An estimated 506,811 of those live in the city of Atlanta.
Despite its large population, towering skyscrapers, and fast-paced "alpha" city status, Atlanta is regarded by some as an oversized small town thanks to its captivating Southern charm. Because Atlanta's streets are lined with gigantic oaks and rambling magnolias, and the city boasts 3,000 acres of parks, it is fittingly known as the City of Trees.
Climate
Atlanta enjoys a humid subtropical climate with four distinct seasons and plentiful rainfall throughout the year.
History
After the systematic removal of Native Americans from northern Georgia between 1802 and 1825, Atlanta was founded in 1837 as the Western and Atlantic railroad's terminus. Originally only a few homes and a general store, it was first named "Terminus" and later "Marthasvile." The city's current name comes from railroad engineer J. Edgar Thompson.
By 1854, four different rail lines had linked to the new city, soon qualifying Atlanta as the rail hub for the entire southern United States.
As a distribution hub during the Civil War, Atlanta was burnt to the ground – the only city in North America to be destroyed as an act of war. Nevertheless, Atlanta rose from its ashes – hence the phoenix as the city's symbol – and a rapidly growing population ensured that the manufacturing and rail hub industries prospered. The reconstruction of Atlanta created many new jobs, and employment boomed. Soon after, Atlanta became the industrial and commercial center of the South.
Despite discrimination and Jim Crow laws, Atlanta enjoyed a fairly prosperous African-American middle and upper-class, and Atlanta's famous elite black colleges were established between 1865 and 1885. Years later, in the 1960s, Atlanta-born Martin Luther King Jr. rallied for further desegregation as the leader of the Civil Rights Movement.
Economy
Atlanta still thrives as the center of a network of railway lines and interstate highways. Furthermore, Hartsfield Atlanta International Airport is the world's busiest airport thanks to its proximity (a three-hour flight) to most major American cities. Consequently, trade, transport, and utility companies are the largest employers in the state.
Home to 30 Fortune 500/1000 companies, Atlanta is the financial and commercial capital of the Southeast. Other industries include printing and publishing, technology and telecommunications, banking and insurance, the manufacturing of aircraft and automobiles, beverages and processed foods, electronics and electrical equipment, chemicals, and paper products.
Business Resources
Atlanta residents have various business organizations available.
The Metro Atlanta Chamber of Commerce is the chamber of commerce for the Atlanta metropolitan area.
The Metro Atlanta Business Association is a business development and marketing association for all metro Atlanta-area counties targeted at business owners and executives.
The Minority Business Development Agency offers access to business assessments, capital and finance management, global markets, strategic business consulting, business process improvement, and resources.
The Small Business Administration has a Business Development Program to help qualifying minority-owned firms develop and grow their businesses through one-on-one counseling, training workshops, and management and technical guidance.
The Indus Entrepreneurs fosters entrepreneurship globally through mentoring, networking, education, incubating, and funding.