Should you be looking for a Dallas factoring company as a solution to your cash flow delays, you are in the right place!
Dallas has a diverse business base thanks to its large and well-educated workforce, central location, and history of innovation.
Industries in Dallas That Use Accounts Receivable Factoring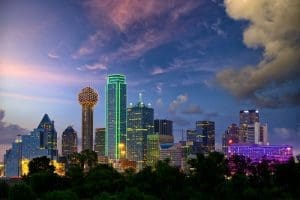 Charter Capital is a leading invoice factoring company with experience providing invoice factoring for just about every commercial industry. Some of the sectors in Dallas that use the factoring services of an accounts receivable factoring company include:
Trade, transport, and utilities
Professional and business services
Education and health services
Manufacturing
Invoice Factoring Process
Invoice factoring may be the perfect cash flow solution for your business if you're seeking a simple, flexible lending option. When outstanding invoices stall your cash flow, a receivables factoring company can buy the invoices for a percentage of their total value and then take responsibility for collecting the payments.
The process is quick and easy:
Invoice your customers as you normally would.
Submit the unpaid invoices to an accounts receivable factoring company.
Get your money advanced – usually on the same day.
About Dallas
Part of the larger Dallas-Ft. Worth-Arlington metropolitan area, Dallas is the ninth-largest city in the United States with a population of more than 1.3 million.
Dallas is booming thanks to its low cost of living, business-friendly environment, central location and transportation network, and strong base of skilled employees. It is also home to the World's Most Valuable Sports Team – the Cowboys, worth $5.5 billion.
Climate
Dallas enjoys a humid subtropical climate. While the winters are mild – daytime highs are often above 65°F, the summers are humid and extremely hot – with severe heat waves.
History
Originally called Three Forks, this section of the Trinity River started as a trading post for Indians and settlers founded by Arkansas native John Neely Bryan in 1839. Soon after, in 1841, nearby Peters County residents relocated to the conveniently located Dallas. In 1860 Dallas was officially recognized as a town.
Because of Texas' wish to break away from the Union, a turbulent time followed. Once the Civil War had ended, though, Dallas experienced a substantial growth spurt in farming and cultivation.
The Great Depression was overcome with the discovery of oil in 1931. Soon Dallas was a haven for prospectors drilling for black gold and the small businesses that supported them.
Big oil company headquarters moved from Dallas to Houston in the late 1970s.
Tech-driven business boomed in Dallas from the 1950s and 1960s thanks to LTV Corporation and Texas Instruments – and is still going strong today. In the 1990s, Dallas was nicknamed the 'Silicon Prairie'.
From humble beginnings in 1957, the Home Furnishings Mart became the largest wholesale trade complex in the world, renamed the Dallas Market Center.
Economy
Low taxes and several incentives that encourage growth and investment contribute to the business-friendly environment of the Dallas metro. With house prices 42% less than many other large metros, Dallas's affordability is a competitive advantage for companies seeking to keep labor costs low and recruit the best workers.
The DFW regional labor force is the 4th-largest in the U.S, at a figure of 4 million.
The Dallas economy is one of the most richly diverse in the nation. The primary main industries are trade, transport, and utilities, professional and business services, telecommunications, and manufacturing.
Building Design, Construction, and Furnishing
Company Headquarters and Operations
Food Manufacturing
Instruments
IT Services
Logistics
Media
Telecommunications
Transportation Manufacturing and Assembly
The Dallas area is home to 19 Fortune 500 companies, including American Airlines, AT&T, Advance PCS, Dean Foods, ExxonMobil, Kimberly-Clark, McKesson Neiman Marcus, Southwest Airlines, and Texas Instruments.
Business Resources
The Dallas Chamber of Commerce serves as the voice of business and the champion of economic development and growth in the Dallas region.
SCORE is dedicated to helping small businesses through mentoring and training by volunteers who bring decades of experience in various business disciplines and industries.
The DEC Network drives innovation and economic impact by helping entrepreneurs start, build, and grow their businesses.
LiftFund helps small business owners with limited access to capital by providing small business loans and minority business loans for women, startups, and entrepreneurs.
Charter Capital has over 20 years of experience providing factoring services to a variety of businesses. Contact us today to see how we can help you improve your cash flow so that you can take control of your business finances.